Half Day Regular Tour to Monreale & Palermo from Palermo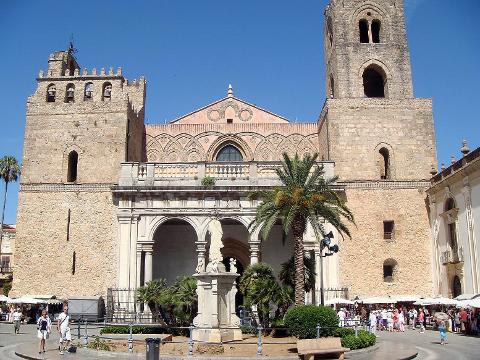 Duration: 4 Hours (approx.)
Product code: FDPMOTOUR
Today a short drive take us to Monreale, to see where the Arab-Norman art and architecture reached the pinnacle of its glory with the Duomo (Admission fee: not included), launched in 1174 by William II. It represents scenes from the Old and New Testaments all in golden mosaics. Then transfer to Palermo and walking tour of the city center. The walking tour will start with the lively Ballarò Market, a place overflowing with beautiful fresh fish, and local vegetables and cheeses. Originating from the era when Sicily was occupied by the moors, this 1000 year old market has run much in the same manner for centuries. It has strong Arab influences, resembling an eastern souk, and these influences are also evident in the merchandise itself. Next to mounds of ricotta and caciocavallo cheeses, barrels of olives and fat slabs of swordfish sit saffron and other spices, as well as sacks of beans and gorgeous indigenous fruit and local vegetables. Here we have the opportunity to taste a typical palermitano dish, such as the famous Panelle (a thin paste of crushed ceci/garbanzo beans rolled into sheets, fried and served in pizza-like slices). Then by walk we reach Piazza Pretoria and the famous "four corners" converge in a quartet of baroque palaces from the climax of the Spanish rule dating from 1560. Then our short stroll will continue through Via Maqueda with the external view of Massimo Theater (The Opera House) and Politeama Theater. The visit will end in Piazza Ruggero Settimo.


SEMI ESCORTED HOSTED TOURS
Provided with: minimum of 2 clients
Limited to maximum: 25 people
Language: English Only
Departure from Palermo: Monday
Half Day Tour: approx. 4 hours
Important: walking tour of Palermo for around 2 hours to explore the town
This tour is land only.
APPOINTMENT WITH OUR STAFF:
Palermo, Piazza Ruggero Settimo 15 (between the Hotel Politeama and PRADA store)
Departure time and details will be shared at time of booking
OPERATE WITH:
This tour is operated only with a Driver-Escort up to 5 people. The visit to Monreale Dome will be independent.
The Driver Escort is not a Licensed Tourist Guide --Licensed Tourist Guide: are the only professionals, with a Regional license, permitted to conduct visits and tours in all sites and museums within a city -- and he cannot escort people inside the monuments because this is not allowed by Italian Rules. However, he has the competences to promote the most important highlights providing basic historical & cultural information.
Between 6 and 7/8 persons in your tour you'll have a Driver Escort and a licensed Tour Guide on the spot to visit Monreale Dome.
From 8/9 people, this tour is operated with a Tour Director. Licensed Tourist Guide is provided on the spot to visit Monreale Dome.
WHAT IS INCLUDED:
-Vehicle/coach with air conditioning
-English speaking Tour Director/Driver-Escort
-Walking tour of Palermo city center
-All sightseeing & visits as per itinerary
-VAT
WHAT IS NOT INCLUDED:
-Gratuities & Tips
-Meals & Beverages
-Travel Insurance
-Admission fees
-Licensed tourist guide at Monreale Dome if less than 6 people on the tour.


ADMISSION FEE:
The price of this tour does not include the Admission Fees.

IMPORTANT TO KNOW:
Our agency does not discriminate in any way based on religion, race/national origin, political affiliation or any other factors.
We reserve the right to expel from the tour any participant whose behavior toward other participants obviously does not conform to this policy. It is important that our tours be undertaken in a social environment which creates a friendly, memorable experience for all participants.
Thank you for your understanding.

EXCURSION | CANCELLATION POLICY:
-Total refund up to 15 working days before arrival
-25% of total amount won't be refunded from 14 to 10 days before arrival
-50% of total amount won't be refunded from 9 to 6 days before arrival
-75% of total amount won't be refunded from 5 to 3 days before arrival
-100% of total amount won't be refunded from 2 to the day of the services or after (No refund for no show).