Step by Step - starts on MONDAY from PALERMO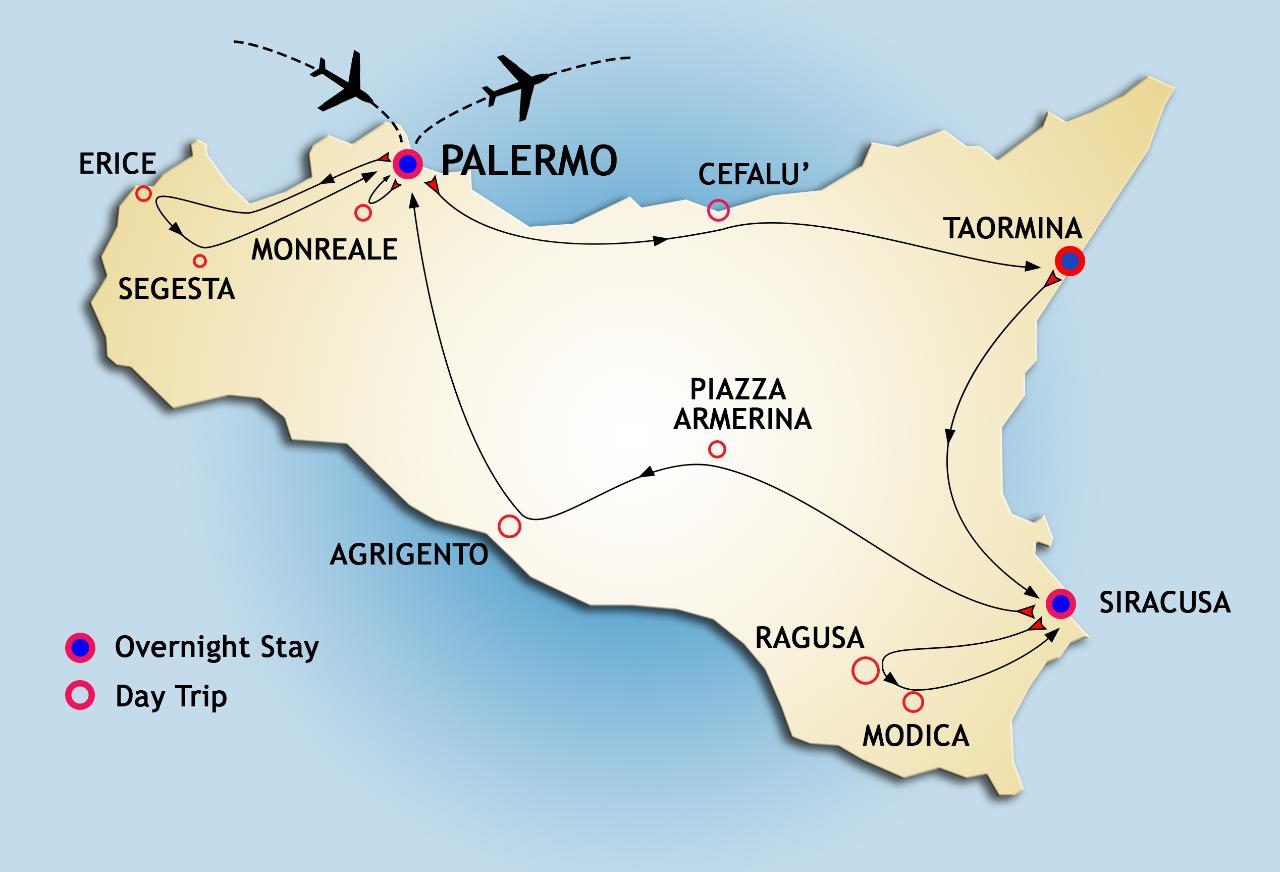 Duration: 9 Days (approx.)
Product code: STEPMON-19
STEP BY STEP - starts on MONDAY from Palermo
Sicily your way. Ancient to Baroque. History, culture, cuisine and sunshine in an itinerary around Sicily in 9 days and 8 nights, from Palermo to Taormina to Siracusa and back to Palermo. The convenience of a (small) group tour with departures 51 weeks of the year. Maximum group size is 25. Departures are guaranteed with as few as two participants.

Your delightful itinerary crosses Sicily from west to east, but starting and ending in Palermo, meaning that your arrival will be at Palermo airport with a departure from Palermo airport.

(Please note: Summary follows. All breakfasts are included, other meals included are indicated in bold face. Locality and site names link to detailed descriptions on Best of Sicily.)
Monday: Arrival at Palermo. Independent transfer from the airport. Overnight at hotel in Palermo. (Information on airport transfers is provided near the end of this page.)
Tuesday: Following breakfast we'll venture into Sicily's wine region. We'll stop at hilltop Erice, famous for its Phoenician heritage, medieval atmosphere and delicious pastries. Next we'll travel to Trapani along the coast below, known for its salt pans (marshes) and wind mills. Following a light lunch at an olive farm, we'll visit hilltop Segesta's timeless Greek temple and amphitheatre, and then enjoy an estate wine tasting. Overnight in Palermo.
Wednesday: Breakfast and check-out. Today we visit Cefalù, a charming coastal town dominated by a sheer cliff. Then we'll continue on to Taormina. Following check-in, evening at leisure in this charming hilltop town of winding streets and enticing shops, medieval walls, Roman ruins and a Greek amphitheatre. Overnight in Taormina.
Thursday: A day of leisure for shopping and sightseeing in Taormina. The atmosphere of this hilltop town, its shops and restaurants, makes it a great place to spend a day indulging personal tastes and unexpected curiosities. Optional excursion up the slopes toward the summit of Mount Etna, Sicily's highest mountain and Europe's largest active volcano. Another option is a cooking class. (See optional excursions below.) Evening and overnight in Taormina.
Friday: Breakfast and check-out. Today we'll explore the vast archeological park of Siracusa. Syracuse was home to Archimedes and Plato, a place where Paul of Tarsus preached. It was one of the most important cities of the ancient Greek world. Then we'll visit the old city, the island of Ortygia. Afternoon and evening at leisure. Overnight in Siracusa.
Saturday: Breakfast followed by excursion to Ragusa, where we'll tour the medieval and baroque districts and enjoy a light lunch in a local trattoria. This afternoon, we'll visit Modica, famous for its chocolate making. Evening at leisure and overnight in Siracusa.
Sunday: Breakfast and check-out. Today we venture into Sicily's rugged interior to visit Piazza Armerina's ancient Roman villa, well known for its mosaics. Following a snack including a mixed starter, water and coffee we'll reach Agrigento to admire its timeless Greek temples and vast archaeological park. Overnight in Palermo.

Monday: Following breakfast reach on your own Massimo Opera Theater (around 10 minutes walking distance from Palermo Hotel) and meet your Tour Escort. Today we'll explore Palermo with a walking tour through the city center to visit the Cathedral, the Baroque Quattro Canti, Piazza Pretoria and a street market. A snack with typical street food is included. Then by taxi to Monreale where we'll visit the Norman abbey, overlooking the city, famous for its timeless Byzantine mosaics and Norman-Arab cloister. Overnight in Palermo.

Tuesday: Following breakfast and check-out, independent transfer to Palermo Airport. (Information on airport transfers is provided near the end of this page).


Summary & Accommodation (lodging):
Prices: €1,840 per person double occupancy (i.e. two persons per room), €2,190 single occupancy, payable by bank wire transfer or major credit card. See our general tours page and Conditions (below) for purchase conditions and cancellation policies.

Includes: Eight (8) nights accommodation in 4-star superior hotels listed here or the equivalent substitution (to be confirmed 20 days before beginning of your tour but usually Plaza Opera or Principe di Villafranca in Palermo, Hilton Giardini Naxos or Villa Diodoro in Taormina and Grande Albergo Alfeo in Siracusa (which you can view here), transportation (coach or minibus) and tour escort for the entire trip, with all breakfasts, 1 light lunch at an olive farm, 1 light lunch in a local trattoria, 1 snack in a local trattoria, 1 snack with typical street food at open air market, all taxes except local city taxes.
Does not include: Beverages, tips (gratuities) to escorts (or guides/drivers), airfare, meals not indicated, entrance fees at archaeological/historical sites (total approx. €70), trip insurance, airport transfers (may be purchased separately), porterage and baggage handling, options, anything not mentioned under "Includes" above, city taxes (see below).
Accommodation: Double room with private bathroom. Single room with supplement ("single occupancy").
Guide/Escort Language: English.
Group Size: From 2 to 20 participants.
Reservation Confirmation: In most cases we can accept a reservation 30 days prior to departure. However, to guarantee your place(s) we require reserving/confirming at least 45 days before the tour's start date.
City Tax: Following the example of Rome, Paris and New York, a few Sicilian cities have begun to tax hotel stays. The law prohibits billing or collection of the "city tax" by travel agents, so you may be required to pay this tax of €2 - €4 directly to the hotel at check-out.
Dates offered: Departures from Palermo every week from January to December. No other agency in the world offers a Sicily tour with this frequency and number of departures!

Please note major Italian legal holidays: 1 January, 6 January, Easter, Easter Monday, 25 April, 1 May, 2 June, 15 August, 1 November, 8 December, 25 December, 26 December.

This tour is organized by Chat & Tour (Tour of Sicily), Via Stefano Turr 38, 90145 Palermo, Italy. Visit our general tours page for faqs and purchase conditions regarding this and other tours.

Optional Excursions/Activities:

This tour includes just about everything while allowing for free time and offering a few exceptional choices, yet without structuring the itinerary as a mere "frame" for a series of options and extra excursions. The tour has these options on Thursday, with a choice of an excursion to the Mount Etna region or a cooking class in Taormina. This permits you to choose which one, if any, is best for you. (Or you might simply choose to relax, go to the beach or go shopping!) If you decide to participate in an excursion or cooking class, please mention this when you reserve your tour. Each presumes a minimum of two participants.
1) Etna Jeep Excursion & Country Snack: You'll be taken by jeep to the higher altitude of the volcano slopes, including Fontana Peak the 'extinct' craters of the Sartorius Peaks and the lava flow from the 2002 eruption. Then you'll enjoy a snack at a country restaurant offering typical Sicilian cuisine. Returning to Taormina, the partially off-road drive will pass the Alcantara Gorge. €160.00 per person (8:30-2:30). We also offer a series of excursions on ATV 4x4 Quad Bikes (shown here) on the slopes of Etna and in the scenic Alcantara Valley nearby.
2) Market Gourmet Cooking Class: This is the epitome of food preparation from start to finish. Independent transfer to a local restaurant (near your hotel) where you'll be met by your chef. At an open-air market you'll select the fresh ingredients of your culinary creation - which (accompanied by the perfect wine) you'll enjoy as your lunch, followed by dessert. Preparing and tasting this piece of Sicily is an experience you'll never forget. The class runs from 9 AM to 2 PM (lunch time). €90.00 per person.
Airport Transfers & Extra Nights (immediately before/after the tour):
Please mention these when you reserve your tour.
Airport Transfer: While there are buses, trains and taxis into Palermo and Taormina from Palermo's and Catania's airports, we can arrange a personalized transfer at €70.00 per person (based on a minimum of two passengers). Travel time in each case is approximately 50 minutes.
Extra Night in Palermo: Double occupancy (double or twin) €75.00 per person, Single occupancy €110.00. Whenever possible, lodging will be in the same hotel used during the tour.
Extra Night in Taormina: Double occupancy (double or twin) €130.00 per person, Single occupancy €170.00. Whenever possible, lodging will be in the same hotel used during the tour.
Extra Night in Siracusa: Double occupancy (double or twin) €75.00 per person, Single occupancy €130.00. Whenever possible, lodging will be in the same hotel used during the tour.

Please note: During these tours it is possible for there to be different drivers or tour leaders during the course of the week, or each day.


LEGAL STUFF: Tour of Sicily by Chat & Tour, Via Stefano Turr 38, 90145 - Palermo, Italy. Full Travel Agency Licence Number: 996/VII/Tur-Sicily • IATA Tids 96 27583 0 • VAT (Partita IVA): IT04943140824 • ASTA Member Number: 900166379 • Site Member: ID 9310610 • NTA Member: TID 034 250.