Rome, South Italy and Sicily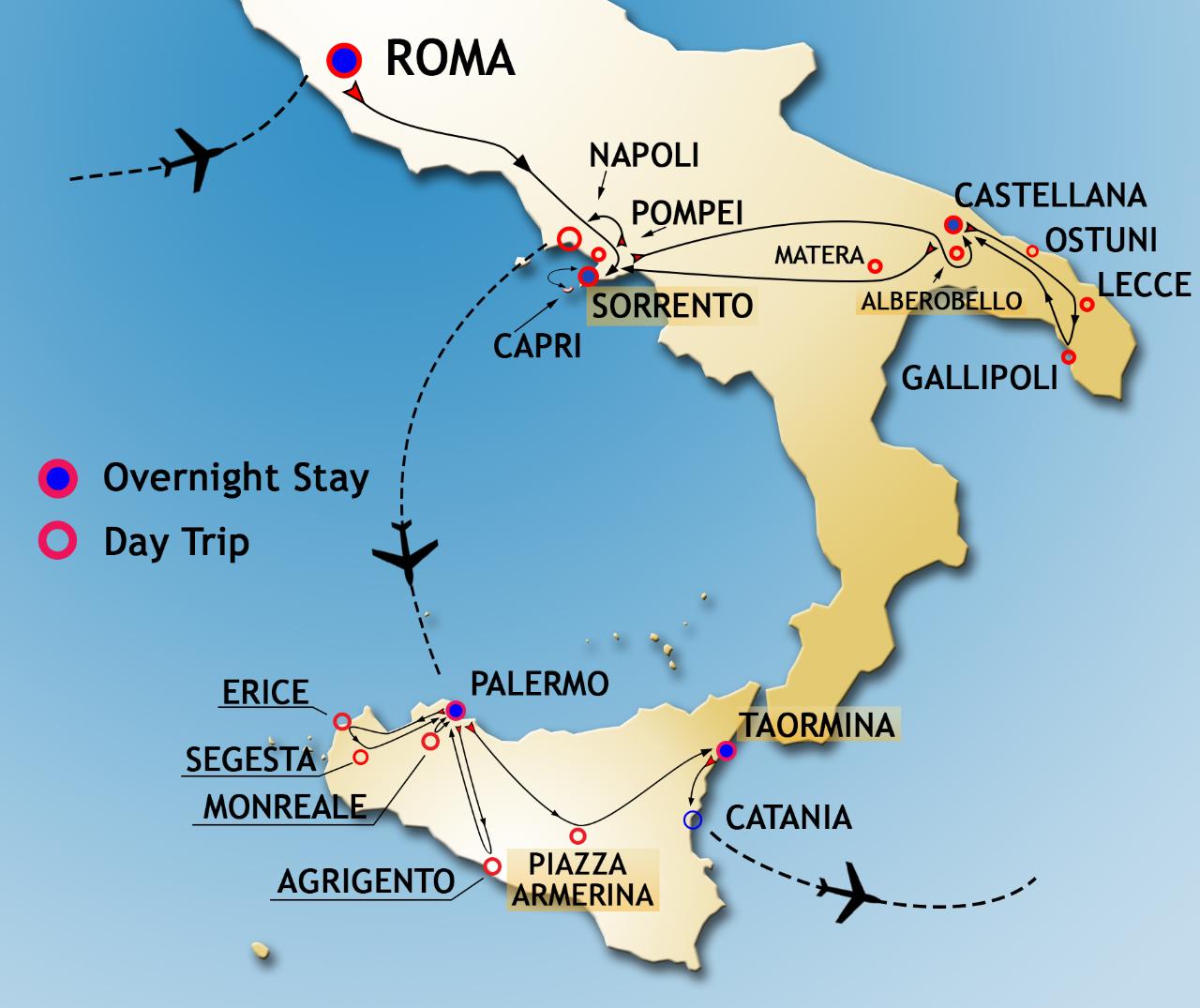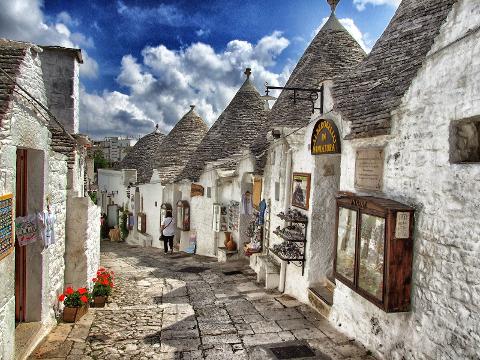 Duration: 14 Days (approx.)
Location: Capri
Product code: MAGN14
BEGINS ON SATURDAYS FROM ROME
ENDS IN TAORMINA

Semi Escorted Hosted Tour
13 nights / 14 days
Provided with:
minimum of 2 clients
Style of Accommodation: First Class


Day 1 (Saturday
) Rome
Our Staff Disposal: transfer only
Welcome to Rome! Upon arrival at Rome airport (FCO/CIA) please proceed through the Passport Control and collect your luggage inside the customs area. Then transfer to your hotel.
The balance of the day is at leisure.

Day 2 (Sunday) Rome
Our Staff Disposal: half day
Breakfast at hotel.
Today enjoy a 3 hours Rome walking tour. Your visit will start from Largo Argentina, place of the murder of Julius Caesar. Then you will continue to the famous Navona Square, one of the best examples of Baroque art in Rome, where you will admire Bernini's fountain of the Four Rivers. Then visit the church of San Luigi dei Francesi and the Pantheon that with its magnificence has impressed travellers for centuries. Experience the magnitude of the emperors visiting Colonna Square with the sublime column of Marco Aurelio and throw a coin into the Trevi Fountain. Your tour will finish at the Spanish Steps, then independent transfer to your hotel.
The balance of the day is at leisure. (BB)
Day 3 (Monday) Rome/Naples/Pompeii/Sorrento
Our Staff Disposal: full day
Breakfast at hotel.
Today departure to Naples, where you will have a walking tour of the historical centre to admire the Piazza del Plebiscito, the Royal Palace, the Gallery of Umberto I, and the San Carlo Opera House. At the end of the visit, experience a lunch based on typical Neapolitan specialties such as "mozzarella, salami, pizza or pasta" (soft drinks included). Then continue to the ruined Roman city of Pompeii, destroyed by the eruption of Mount Vesuvio in 79 b.c. and buried under 4 to 6 meters of ash and stones. Before visiting the excavations, enjoy a short visit to a coral and cameo factory. Then proceed to Sorrento, a charming town of the Sorrentine Peninsula famous for the cultivation of Oranges, Lemons and Olives trees. Dinner at the hotel. (L D)
Day 4 (Tuesday) Sorrento/Capri/Sorrento
Our Staff Disposal: full day
Breakfast at hotel.
Today take the ferry and reach the wonderful island of Capri, docking at Marina Grande. Once on the island, you will visit the Blue Grotto (weather permitting), the Augustus Gardens and the famous "Piazzetta" that is the center of Capri and the focal point of island life. Then a minibus will take you up to the picturesque and quiet Anacapri, where you will stop for lunch. Then return to Marina Grande and transfer back to Sorrento by ferry. Dinner at the hotel. (BB L D)
Day 5 (Wednesday) Sorrento/Castellana Caves/Trulli of Alberobello/Castellana Caves
Our Staff Disposal: full day
Breakfast at hotel.
Today departure to Apulia. First stop at the Castellana Caves, a natural amazing speleological attraction that will astonish you: the Grave is the first huge cave; the White Cave is a shining cave of alabaster adorned with stalactites, stalagmites and coral concretions. Time at leisure for lunch, then continue to Alberobello, the town of the "Trulli " which is part of the Unesco Heritage list. The trulli are typical houses with a cone roof, used as homes and to store farmer utensils. Here you'll enjoy a wine tasting in the local wine cellar. Then proceed to Castellana Caves, where you will have dinner at the hotel. (BB D)
Day 6 (Thursday) Castellana Caves/Lecce/Gallipoli/Ostuni/Castellana Caves
Our Staff Disposal: full day
Breakfast at hotel.
Today departure to Lecce, famous for his baroque arts and architecture developed between the end of the XVI century and the first half of the XVII century. During the tour you will admire the rich and beautiful decoration of the St. Oronzo church, the basilica of Santa Croce and the Celestini palace and the roman amphitheatre. The tour will continue to Gallipoli, from the Greek Kallipolis meaning beautiful city. It is a fishing village which old town is built on a limestone island and linked to the mainland by a 16th century bridge. Free time for lunch, then proceed to the village of Ostuni, also called "white town" because of its white walls and white painted houses. Return to Castellana Caves and dinner at the hotel (BB D)

Day 7 (Friday) Castellana Caves/Matera/Sorrento
Our Staff Disposal: no
Breakfast at hotel.
Today departure to Matera, where you will admire the "SASSI" (stones), originated from a prehistoric
(troglodyte) settlement, and suspected to be the first settlements in Italy. The Sassi are houses into the tuff rock itself, which is characteristic of the Basilicata & Apulia regions. One of the peculiarities of this ancient city is that there is a great similarity with the ancient sites in and around Jerusalem. This caught the eye of film directors and movie studios and the Sassi were the set of various films such as "The Gospel according to St. Matthew"(Pasolini 1964), "King David" (Bruce Beresford 1985), "The Passion of the Christ" (Gibson 2004) and the " Nativity story" (Hardwicke 2006). Matera is also part of the Unesco Heritage List. Time for a snack in Matera and return via Pompei where you will board a bus to Sorrento. (BB)

Day 8 (Saturday) Sorrento/Palermo
Our Staff Disposal: only transfer
The morning is at leisure.
In the afternoon transfer to Naples airport (NAP) and take the flight to Palermo. Upon arrival at Palermo airport (PMO) please proceed through the Passport Control and collect your luggage inside the customs area. Then independent transfer to your hotel. (BB)
*Optional excursion to sightseeing Amalfi coast available paying a surcharge.
Day 9 (Sunday) Palermo/Agrigento/Palermo
Our Staff Disposal: full day from h 8:30AM
Following breakfast, we drive through the interior of Sicily to reach the Archaeological Park of Agrigento. On arrival independent visit of the Archaeological Museum (Admission fee: not included) that offers a fine introduction to the splendors of ancient Akragas and gives an insight into the life of the Greek settlers. Then you will visit the finest of all ancient Greek sites—the complete Doric Temples (Admission fee: not included). Later we return to Palermo. (BB)
Day 10 (Monday) Monreale and Palermo Market
Our Staff Disposal: half day from h 8:30AM
Information: walking tour of Palermo for around 2 hours to explore the town
Breakfast at hotel.
Today a short drive take us to Monreale, to see where the Arab-Norman art and architecture reached the pinnacle of its glory with the Duomo (Admission fee: not included), launched in 1174 by William II. It represents scenes from the Old and New Testaments all in golden mosaics. Then transfer to Palermo and walking tour of the city center. The walking tour will start with the lively Ballarò Market, a place overflowing with beautiful fresh fish, and local vegetables and cheeses. Originating from the era when Sicily was occupied by the moors, this 1000 year old market has run much in the same manner for centuries. It has strong Arab influences, resembling an eastern souk, and these influences are also evident in the merchandise itself. Next to mounds of ricotta and caciocavallo cheeses, barrels of olives and fat slabs of swordfish sit saffron and other spices, as well as sacks of beans and gorgeous indigenous fruit and local vegetables. Here we have the opportunity to taste a typical palermitano dish, such as the famous Panelle (a thin paste of crushed ceci/garbanzo beans rolled into sheets, fried and served in pizza-like slices). Then by walk we reach Piazza Pretoria and the famous "four corners" converge in a quartet of baroque palaces from the climax of the Spanish rule dating from 1560. Then our short stroll will continue through Via Maqueda with the external view of Massimo Theater (The Opera House). The visit will end in Piazza Politeama. from there you will have the opportunity to join your hotel (walking distance). Afternoon and evening at leisure. (BB)

Day 11 (Tuesday) Palermo/Erice, Segesta, Olive Oil & Winery/Palermo
Our Staff Disposal: full day from h 8:30AM
Information: walking tour of Erice for around 2 hours up-and-down to explore the town
Early departure to tour western Sicily where we reach Erice uptown. The Elymians settled the medieval town of Erice, which was an important religious site associated with the goddess Venus. Wander through its ancient streets and visit some of the famous homemade pastry shops—world-famous for marzipan candies and other delicacies like almond and pistachio pastries. Later we proceed to have a light-lunch in a local winery-farmhouse including tasting of mixed local product such as cheese, salumi, olives, local bread combined with their production of olive oil and wine. This afternoon we continue onto Segesta, one of the major cities of the ancient indigenous Elymian people, to visit the unfinished Doric temple (Admission fee: not included), late 5th century BC, built on a hilltop just outside of the ancient city and has a commanding view of the surrounding area. Later we return to Palermo. (BB L)
Day 12 (Wednesday) Palermo/Piazza Armerina/Taormina
Our Staff Disposal: full day from h 8:30AM
Breakfast at hotel.
Today departure for Piazza Armerina. Upon arrival we visit the amazing Roman Villa of Casale (Admission Fee: not included) in Piazza Armerina. The mosaics discovered here are celebrated among scholars of antiquity. This afternoon we then continue to Taormina, the world famous resort town of Sicily. (BB)
Day 13 (Thursday) Taormina at leisure
Our Staff Disposal: no
Breakfast at hotel.
Today is at leisure: Taormina is a hill-village with a glossy sheen of glamour. As well as the famed Greek-Roman Theatre (Admission fee: not included), there are several minor sites to be discovered around Taormina. The attractive principal thoroughfare, Corso Umberto is pedestrian and ideal for strolling and window-shopping. Picturesque lanes above and below the Corso are interesting to explore, while if you want to stretch your legs further there are attractive walks up into the hills, or down to the sea. Given its compact size, Taormina has a huge range of bars, cafes and restaurants where you can while away pleasant hours while admiring the views. (BB)
Enjoy your stay at leisure in Taormina or inquiry us for an Optional Excursion!
Day 14 (Friday) Taormina/Catania
Our Staff Disposal: no
Breakfast at hotel.
Time to say goodbye to Sicily. Then independent transfer to Catania airport (CTA). (BB)

Meal Legend: BB Buffet Breakfast S Snack L Lunch or Light Lunch D Dinner
Full Day: around 7 hours and always in accordance with the itinerary and route
Half Day: around 3 to 4 hours


IMPORTANT TO KNOW:
This tour is operated only with a Driver-Guide or a Tour Director.
The Driver Guide/Tour Director is not a Licensed Tourist Guide --Licensed Tourist Guide: are the only professionals, with a Regional license, permitted to conduct visits and tours in all sites and museums within a city -- and he cannot escort you inside the monuments because this is not allowed by Italian Rules.
The tour is usually English only, but in some cases it could be multilingual.

HOSTED TOUR
This tour includes Hotel Accommodation, transportation, sightseeing and some meals. This tour will be
conducted by a driver escort or a tour escort (depending the number of people confirmed on the activity planned for the day) and can include licensed local guide (as per tour details and conditions). The person that will conduct the tour could be different day by day.
An hosted Tour is ideal for people who want some freedom but still have the comfort of a Tour leader who will take care of group and will orchestrate all services.

WHAT IS INCLUDED:
- First class accommodation
- Daily breakfast buffet
- All sightseeing, tasting and excursions as specified in the itinerary
- Vehicle/coach with air conditioning, no toilet
- Driver Escort/Tour Director
- English speaking local guides on the tour when needed
- Transfer to Naples airport
- Local flight from Naples to Palermo
- VAT

WHAT IS NOT INCLUDED:
- City Taxes
- Beverages and meals not mentioned in the program
- Gratuities to Tour Director/Driver-Escort, Local Guide and Driver
- Admission fees
- Transfers not specified
- Optional Excursions
- Travel Insurance


FEATURED PROPERTIES USED FOR THIS TOUR
Rome (2 nights): Hotel The Building OR similar Hotel.
Sorrento area (3 night): Grand Hotel Vesuvio, Majestic Palace, Hotel Michelangelo OR similar Hotel.
Castellana Caves (2 nights): Hotel Semiramide Palace OR similar Hotel.
Palermo (4 nights): Hotel Plaza Opera, Hotel Principe di Villafranca, OR similar Hotel.
Taormina area (2 nights): Hilton Giardini Naxos (seaside area), Hotel Villa Diodoro, OR similar Hotel.

Hotel may be substituted with similar categories.
We do not guarantee all people on the tour will be lodging in the same Hotel.

OPTIONAL EXCURSION: AMALFI COAST
Euro 450,00 total per 2 people
Service by private car and English speaking Driver
Operated on day 6 (Saturday)
The price includes:
-Pick-up at Sorrento hotel;
-Sightseeing of Amalfi coast;
-Drop-off at Naples airport.


SICILY AIRPORT TRANSFERS package: per person
-Euro 80,00 per person, based on a minimum 2 people travelling together and sharing the same vehicle
The rate covers:
- transfer from Palermo airport to Palermo hotel
- transfer from Taormina hotel to Catania airport